Hi everyone and welcome to this month's Traveler's Journal feature on the new Papertrey Ink blog. Today, let's talk about the actual Traveler's Journal outer cover. This is what holds all of the little journals, that you have created, all together. The outer cover can be created from all sorts of things: cardstock, fabric, felt, vinyl, leather, and so much more. You can customize and personalize your cover however you want to make it work perfectly for a project or a specific person. Inside this cover is an elastic cord binding that you slide your journals into to hold them inside the cover. Below is a video tutorial I did when my Traveler's Journal collection debuted for using the Traveler's Journal: Outer Cover die to create a cover, how to add the elastic cord binding, and how to insert the journal book into it:
Today, I have a new cover that I created to house the journals that I have been creating and sharing with you the last few months that documents my family's holiday season last year.
I was inspired to try out this kind of cover by France Wisniewski. What you will need is the Traveler's Journal: Outer Cover die, some patterned paper, and a piece of fun foam with a sticky back. You can use fun foam without a sticky back as well, you just need a way to adhere it to the patterned paper.
Adhere the fun foam to the back side of the patterned paper and then die cut with the Traveler's Journal: Outer Cover die. Fun foam cuts very easily in a die cut machine and I had no problem cutting the paper and fun foam layered together. The fun foam makes the patterned paper stronger and super flexible, which is perfect for this cover.
I added some reinforcer circles and eyelets to the holes on the spine of the cover. I love the extra detail it adds while making those binding holes just a bit stronger.
Next, I used black elastic thread to add the binding and closure to the cover.
Once I finished adding the elastic cord to the cover piece, I had fun adding some details to the cover.
I added a die cut snowflake using the Snowfall Style 2 die cut from some white cardstock.  The year is stamped for this book (2016) onto some kraft cardstock with the Antique Alphabet stamp set and then punched out with a circle punch. I spattered a little white paint over the cover decoration to finish it off. I kept the spatters away from my stamped year by covering it with a piece of scrap paper that I tore to fit. The candy cane is tied to the elastic with some metallic thread - I had some of these candy canes in my stash that I had picked up at a craft store years ago.
Here's a closer look at my binding detail. I am so happy with how it turned out!
I added my December 2016 journals inside the cover and now it's ready to share with my family. I know they are going to love paging through our memories.
Supplies:
Bitty Big: Soft Stone patterned paper, red sticky back fun foam, 1 3/8" circle punch, white paint, eyelets, mini candy cane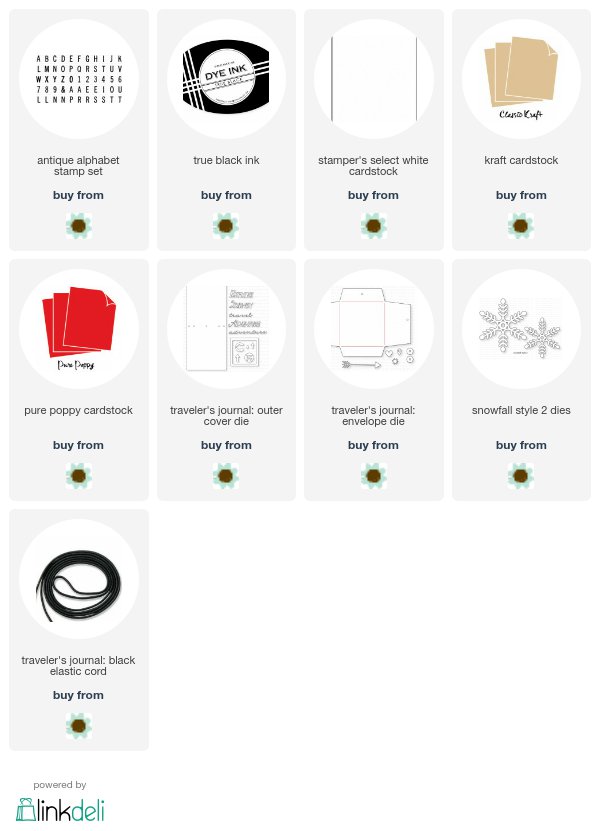 The Traveler's Journal team has some fantastic cover inspiration to share with you today. I literally gasped out load when I saw their creations for this month! 
"Journal covers made of fabric and other materials can function as the perfect accessory to your traveler's notebook. They are easy to make and quick to change out. Match your cover to the season, your outfit, even your mood!"
Supplies:
PAPER: Stamper's Select White card stock; Traveler's Journal: Page Blanks
DIES: Traveler's Journal: Outer Cover; Snowfall Style I
OTHER: Pure Poppy and Vintage Cream Felt; True Black Vintage Button; Traveler's Journal: Black Elastic Cord; plaid fabric; fabric glue; sewing machine; grommets and grommet setting tools
Click here to visit Amy's blog to see more!
"The Red Buffalo Plaid revolution has hit me, and I'm loving it! We got this cute quilted plaid in at the craft store I work at and I was like: Perfect! Just what I need to make a cover for my Christmas Mini Album Kit!"
Supplies:
STAMPS: Traveler's Journal: December, Background Basics: Striped Sweater
INK: Pure Poppy, Pinefeather
DIES: Traveler's Journal: December, Traveler's Journal: Outer Cover
OTHER: Traveler's Journal: Black Elastic, Quilted Buffalo Plaid fabric, Twill Tape, Gold Eyelets, Cork Paper, Fibers and Gutterman Thread
Click here to visit Andi's blog to see more!
"Today we are focusing on various mediums you can use to create fun covers for your Traveler's Journals. I have two projects for you showing completely different ways to create covers for your journals and other memory keeping crafts. I hope to see you on my blog!"
Supplies:
PAPER: Cocoa Vanilla Studio Free Spirit
DIES: Traveler's Journal Outer Cover Die, Traveler's Journal: December
OTHER: White Mini Doilies, True Black Felt, Tropical Teal Felt, Washi Tape
Click here to visit Stephanie's blog to see more! 
Thank you so much for joining me and the Traveler's journal team today and I look forward to sharing more Traveler's Journal inspiration with you next month!