Hi everyone and welcome to this month's Traveler's Journal feature! Today the Traveler's Journal team and I are sharing layouts we did in our journals using sketches. Sketches can be a great tool when doing any sort of project - a card, a tag, a scrapbook page, etc. They can help when you are short on time and need a quick idea to get started and they can help when your inspiration/mojo is low to springboard your creativity. One of the best thing about sketches is that you can follow them exactly as they are or you can be as flexible as you want with them. I put together a collection of six sketches to inspire you with you Traveler's Journal layouts. You can click the link below the graphic to download a PDF file of the sketches. You can reference the sketches next time you are putting together a layout spread in your journal.
CLICK HERE to download a PDF file of the Traveler's Journal sketches. 
I used the sketch on the top left of the PDF file to create this first layout spread:
I did some layouts of the trip that I took with Chad last November to Disneyland. We went just the two of us to celebrate our 20th anniversary. I challenged myself to use the layout that uses one photo across both pages. It's a little scary to cut a photo in half, but I love the results!
I made my own patterned paper with a Mickey Mouse punch, Pure Poppy & True Black cardstock, a star stamp, and Fresh Snow ink. A really great PTI color combination for Disney? Pure Poppy, True Black, and Summer Sunrise. I put a strip of the patterned paper on the left side of this page along with a bit of gingham trim. I typed up some journaling on my typewriter and attached it to the right end of the photo.
On the opposite page, I added a title with the Headline and Script Alphabet dies along with the geo-marker symbol that is part of the Traveler's Journal: Envelope die collection. Under the title I added a few more details like the date and some fun typed words from the Traveler's Journal: Typed Words stamp set.
For my the next layout spread, I used the sketch on the bottom right of the PDF file:
This layout spread includes five photos - can you believe that? That's pretty impressive considering the smaller size of the Traveler's Journals.
This page includes four photos from our trip that I think capture some of the fun that we had. This was my first time to Disneyland - we have been to Disney World several times. It was fun exploring everything there with Chad and we even met up with a few special friends too.
On this page, the sketch suggests a full page of patterned paper, but I decided to do a full page photo instead. I incorporated the title with the photo - how fun is that? I die cut the "adventure" word from Summer Sunrise cardstock and added a few stamped word strips above and below that. This photo idea was one I saw on Pinterest quite a long while ago and was excited to actually make it happen for real while we were there!
Supplies (this list includes affiliate links):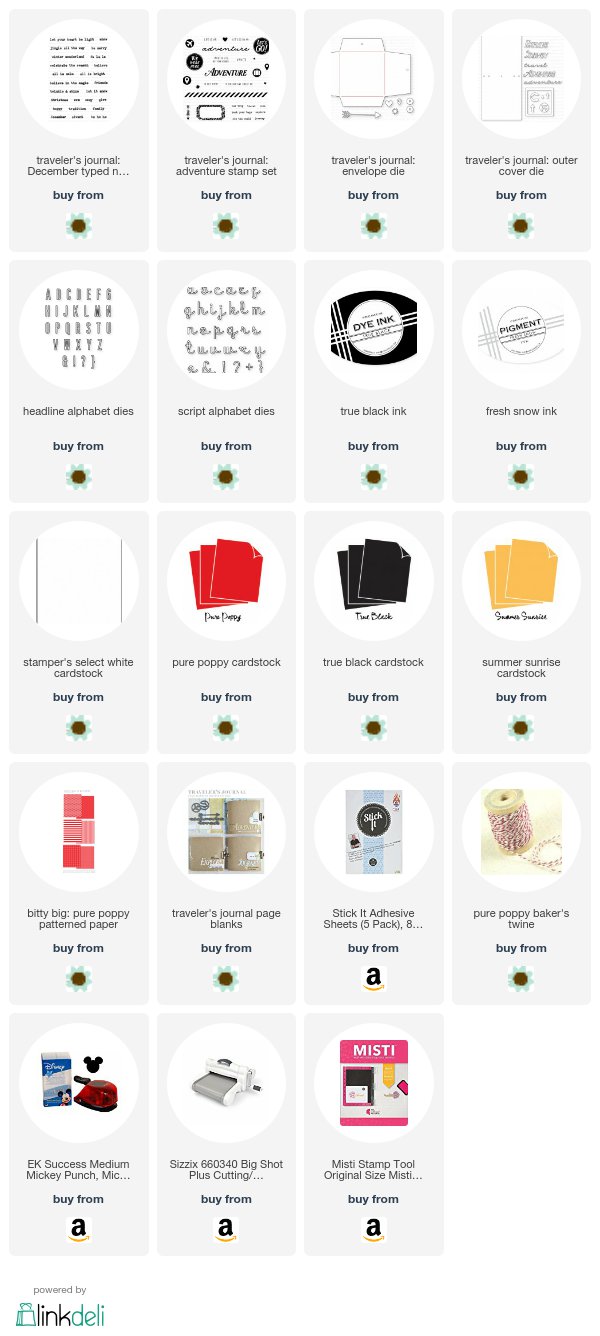 The Traveler's Journal team took the sketches from the PDF file and created some fantastic layout spreads to share with you today. You are going to love what they came up with!  
"If you love card sketches, you're going to love today's traveler's journal sketches! The square layout ideas can be especially helpful to those of us who may be more familiar with A2 layouts. Join us in giving these sketches a try!"
Supplies:
STAMPS: Wet Paint
INK: Smokey Shadow
PAPER: Soft Stone, Kraft, and Smokey Shadow card stock; Soft Stone Bitty Big patterned paper
DIES: Headline Alphabet, Songbirds, Big Basics: Wish Big, Traveler's Journal: Accessories, Traveler's Journal: Outer Cover
OTHER: black enamel dots, jute string, vintage typewriter
CLICK HERE to visit Amy's blog to see more!  
"Sketches can be a great tool to quickly inspire and guide you when making cards, layouts, and even when you are playing around with your Traveler's Journal supplies. Today on my blog I'm showing how I used sketches to create a great little mini album featuring my favorite person…my nephew, Keagan. Come take a look!"
Supplies:
STAMPS: Background Basics: Striped Sweater and Type Strips III
INK: Dark Indigo, Melon Berry
PAPER: Classic Kraft, Dark Indigo, Melon Berry, Americana, Bitty Big: Spring Rain
DIES: Traveler's Journal: Accessories, Traveler's Journal: December
OTHER: Rustic Cream Button Twine
CLICK HERE to visit Andi's blog to see more!  
"Sketches are a great way to get yourself out of a creative rut, or even just a fun way to work through a bunch of layouts really quickly if you're on a deadline. I put together a couple cute Valentine's layouts of pictures of my kiddos using an interpretation of the sketches Heather provided. I hope you will join me on my blog as I lay out (pun intended haha) the way I put them all together!"
Supplies:
STAMPS: Traveler's Journal: Currently
INK: True Black
PAPER: Traveler's Journal: Page Blanks, Hello Love Pattern Paper (Crate Paper)
OTHER: Hello Love Embellishments (Crate Paper)
CLICK HERE to visit Stephanie's blog to see more!

Thank you so much for joining me and the Traveler's journal team today. I hope you have been loving this inspiration that we have been bringing to you this past year with the Traveler's Journal posts. More inspiration will be coming again soon!