Watercolor is so popular right now and there are so many options out there for supplies to do it. If you own dye ink pads and a paint brush, you actually have everything you need to get started! Papertrey Ink has a gorgeous spectrum of ink colors to choose from to bring your colored images to life. I have some color charts to share with you today to help you get started (or keep going) with using dye inks to watercolor.
Before you sit down to watercolor on a project, you might find it helpful to create a swatch chart with the inks that you have. Making a swatch chart does a few things: it gives you a visual of the colors that you have and it also gives you a sense of how each color will work when you watercolor with them.
Sometimes inks watercolor differently than they stamp. The colors may separate a bit, actually appear a different color, or you might need more or less water to make them color well. The more you work with your dye inks to watercolor, the better you will get to know them. I recommend using a heavier paper when you watercolor that can handle water being used on it with out buckling and warping. You can watercolor onto the Stamper's Select White cardstock that Papertrey Ink sells (with minimal water use), but you will get better results when you use an actual watercolor paper.
Here are the charts that I have to share with you today that include all of the Papertrey Ink dye ink colors. I printed them out onto watercolor paper and then added the samples onto them. THE CHART FILES INCLUDED BELOW ARE BLANK and are meant for you to add your own watercolor swatches on them.
Download PTIswatches-8.5x11-1 (this chart is blank)
Download PTIswatches-8.5x11-2 (this chart is blank)
So how exactly do you watercolor with an ink pad? Use a clean acrylic block or other smooth plastic surface and press the ink pad onto it. Then you can use a watercolor brush to pick up the ink to paint onto your project.
You can also use an ink refill to watercolor with as well. Add a drop to a smooth plastic surface and then you can also pick that up with a brush to paint on your project. Ink in the refill bottles is very concentrated and so you will want to make sure you add plenty of water to the ink before you paint it onto your project.
I have a project to share that I used dye inks to watercolor the image with. When you are watercoloring, making sure you are stamping the main image with an ink that will not bleed when you add water to it. You can use a waterproof ink, or you can emboss your image like I did here. I stamped the flower image with Versamark ink and then embossed it with clear embossing powder. Doing watercolor on an image that is embossed with clear embossing powder is my very favorite way to watercolor an image.
I was drawn to the more pastel tones when I was filling in my color chart and so I used a soft pink color combination to watercolor the flower from the Especially For You stamp set. I love the soft and gentle look for this sympathy card design.
Work in layers when you watercolor. I started with Sweet Blush on the flower and added Pale Peony for some mid tones and then Berry Sorbet for shadows. Use your color charts to discover different color blending combinations. Experiment with working when the paper and/or paints are wet and letting colors dry before adding more color. You are going to get some different effects. Here, I let colors dry just a bit before adding then next layer.
For the leaves I started with Prairie Grass and then added Olive Twist for a bit of shadow. The center of the flower is Honey Nut and around the image I used Fine Linen and Classic Kraft for a bit of a darker color right around the edges.
The sentiment is stamped with Honey Nut ink and then I added the image to a Kraft card base with a bit of gold shimmer cardstock for the scallop trim on the edge. A few pieces of clear confetti are the finishing touch for this card.
Supplies (this list includes affiliate links):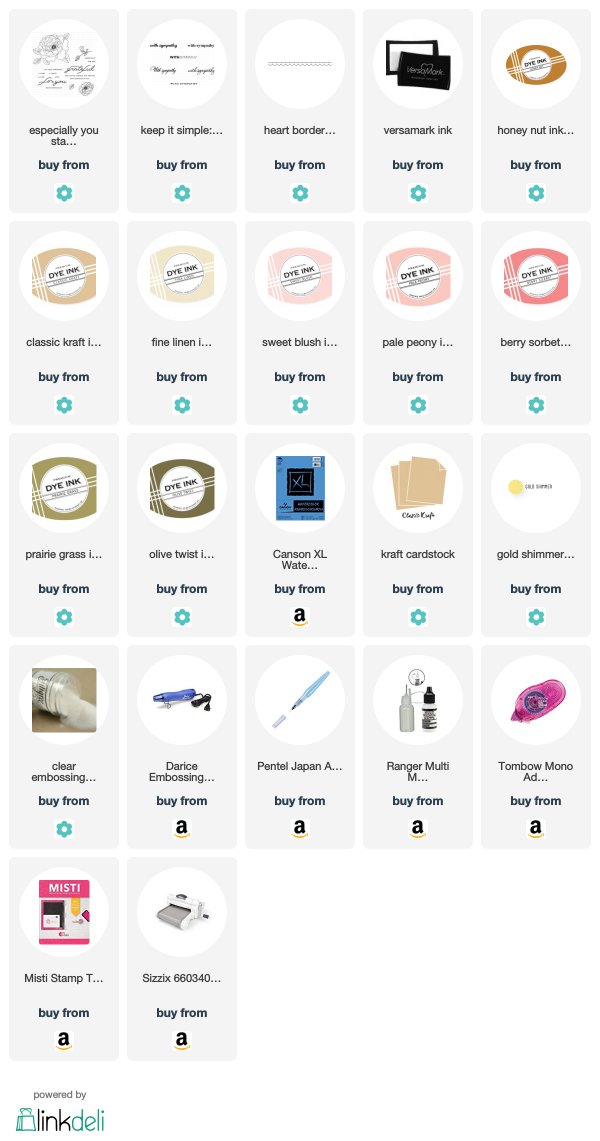 Thank you for stopping by today! I hope that you were inspired to use your dye inks to watercolor on your next project. I will be back soon with more to share!