Hello everyone and welcome to this month's Traveler's Journal feature! This month myself and the Traveler's Journal team have created project journals to share with you. No matter what hobby you might have, a project journal can be so useful! Use it as a catalog of your creations, a place to plan for future projects, a place to house small supplies, or even a place to keep track of different techniques that you have learned.
I have a project journal to share that catalogs some of my latest sock knitting creations. I used the passport sized page blanks to make the journal base. I made a tag for the journal title on the cover and added some die cutting using dies from the Traveler's Journal: Passport Cover die collection. The stamped border image on the edge of the cover is from the Fair Isle Borders stamp set and is stamped with Prairie Grass ink.
For each of my project pages, I used the same layout: a page for a project picture, a trimmed page to loop some samples of the yarns I used, and a page for the project details.
I always think that I will remember the details of my projects like how many stitches I cast on for a pair of socks or the needles and the yarn details. But, I definitely can't always remember! Even though I made these socks not too long ago, I still had to hunt for yarn labels and needle details to add to this page. Next time I want to remember, it's all in one place.
The details are typed up onto a white address label that I stamped a border onto the edge of with the Fair Isle Border stamp set in Honey Nut ink. Stamping a border onto a label or journal card is quick and easy and really adds a pretty and personalized touch to your projects.
I also used the white address labels to make my own strips of "washi" tape. I stamped the image onto the label, cut it into strips and then tore the strips to tape down the top and bottom edges of my project photos.
The trimmed page strips in the middle of the book do take a little planning. You need to assemble your pages for your journal and then go through and mark which pages will need to be trimmed down. Then take apart your pages, trim the marked pages down (I did about an inch from the book center) and reassemble your book.
The trimmed page strips could be used to attach all sorts of samples to like fabrics or paper samples.
I only included one of the yarns for this last project (what I used for the toes, cuffs, and heels because the rest of the leftovers from the mini skein have already been crocheted into a scrap yarn blanket.
I already know how much I will love going back to look at the projects in this journal and it inspires me to catalog even more of my projects.
Could you keep a journal without all of the extra stamping and details? Of course you could, but the extra touches and details really personalize the project and show the care that you put into what you do.
Supplies (this list includes affiliate links):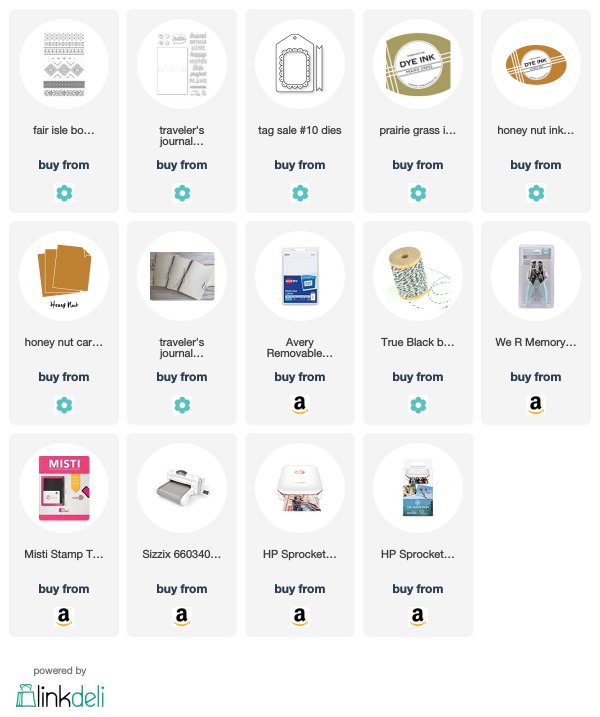 Now check out what the Traveler's Journal team have to share with each of their project journals. They came up with some really great ideas that have me inspired - and I know they will inspire you too!
"Keeping plans in a Traveler's Journal is super handy for any project. It's a place to capture ideas, swatches, sketches, and progress. I'm using the new Passport size for some quilt block patterns that I think would be fun in either a quilt or for wall decor."
Supplies:
STAMPS: Traveler's Journal: Bullets
INK: Stormy Sea
PAPER: Simply Chartreuse, Hawaiian Shores, Tropical Teal, Dark Indigo, Harvest Gold, Traveler's Journal: Passport Page Blanks
DIES: Traveler's Journal: Passport Cover, Smooth Alphabet
OTHER: Hemp Twine, Adhesive, Journaling Pen
CLICK HERE to visit Andi's blog to see more!
"This month, I challenged myself not to make a "perfect" journal, but more of a work-in-progress journal where I can add crafting techniques along the way. I wanted to have a journal where I felt comfortable jotting quick notes and tips. I added tabs to categorize the types of techniques. What I love best about making my own journal is that I can add a page or two as I discover more fun ways to create."
Supplies:
STAMPS: Traveler's Journal: Field Notes, Traveler's Journal: Bullets, Bold Basics, Yellow Sunshine, Lillies of the Field, Glorious Globes Basics, Glorious Globes: February, How Are You Today?
INK: Smokey Shadow, Pale Peony, Hibiscus Burst, Aqua Mist, Pure Poppy, Dark Indigo, Honey Nut, New Leaf, Summer Sunrise, Limeade Ice
PAPER: Travelers Journal: Passport Blank Pages, Classic Kraft, Stamper's Select White, Bright Buttercup, Aqua Mist
DIES: Traveler's Journal: Accessories, Traveler's Journal: Outer Cover, Minute to Make It: Holiday Tags, Pierced Feature Frames, Shape Shifters: Square 2, Heirloom Ornaments 1, Wonderful Words: Hello, Glorious Globes Basics, Glorious Globes: February
OTHER: jute twine, True Black baker's twine, Copic multiliner pen
CLICK HERE to visit Ashley's blog to see more!
"Every good craftsman requires a toolbox, and this month I'm transforming my Traveler's Journal into a traveling toolbox for whatever my current needlework project might be! Everything fits perfectly in my handmade fabric basket for stitching on the go!"
Supplies:
STAMPS: Stitching Garden, Traveler's Journal: Typed Notes, Traveler's Journal: Currently
PAPER: Winter Wisteria, Stamper's Select White Cardstock, Bitty Big pattern paper (Simply Chartreuse, Pale Peony, Harvest Gold), Weathervane
INK: Harvest Gold, Smokey Shadow, Simply Chartreuse, Ripe Avocado, Winter Wisteria, Pale Peony
DIES: Traveler's Journal: passport cover, Stitching Garden, Pierced Feature Frames: Rectangle, Frame it Out: Many Blessings, Scallop Stackers:small
OTHER: Sweet Blush button, fabric, sewing notions
CLICK HERE to visit Kelly's blog to see more!
Thank you so much for joining me and the Traveler's journal team today. I hope you enjoyed what we had to share today and more inspiration will be coming your way again next month!