Hey everyone! Foiling is a pretty new technique for me. Last year, I bought a laminator online to do the basic heat transfer technique and have been learning/exploring about all of the possibilities of what is possible with foiling since. I have a project today to share with you today that involves foiling using a transfer gel. This project is also featured over on the Taylored Expressions blog.
Think of the possibilities using the stencils that you already own… plus the all of the different options that are available in the Taylored Expressions webstore! The Deco Foil Transfer Gel is very easy to use with any stencil design and there are so many foil choices to add shimmer and shine to your projects.
For this project, I created shimmery rainbow confetti using the Confetti Toss stencil along with the TE exclusive Rainbow Bright foil. I tried out the rainbow confetti on a few different colors of cardstock. Whenever you have all of your supplies out to do a more involved technique, take the time to make more than
The first thing I thought of with all of this shimmery rainbow confetti? How much Big Grumpy would hate it! So, of course I had to create a card that featured him. Big Grumpy and his party accessories are colored with Copic markers and I added even more sparkle with a bit of glitter on his party hat and present.
Supplies: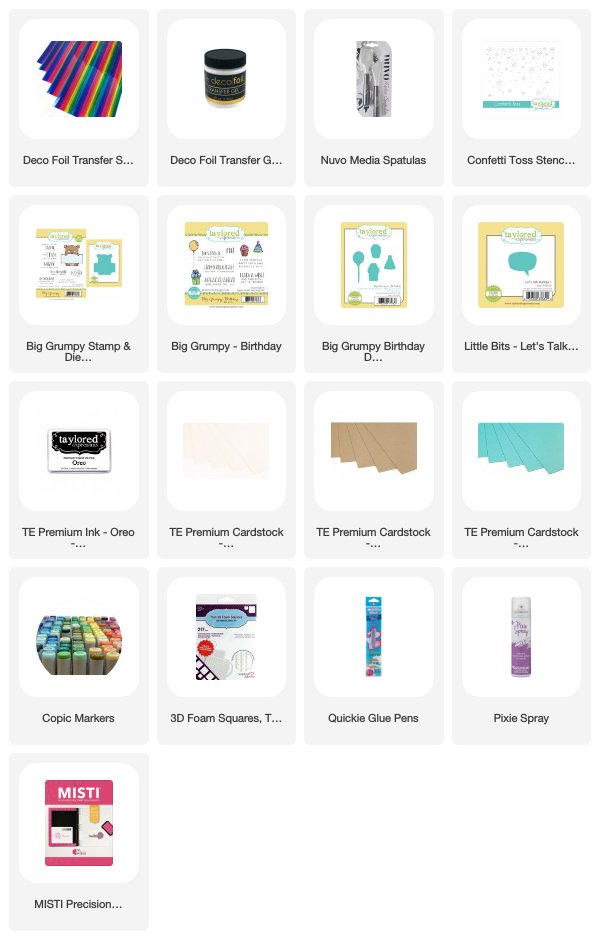 I hope you are inspired to add some shimmer and shine to your next project using a foil technique? Have you ever foiled before? Thank you so much for stopping by today. I will be back soon with more crafty inspiration to share!