Hey everyone! I have an inspirational card set to share with you today that I created with a few products that I picked up recently at Taylored Expressions. This project is also featured over on the Taylored Expressions blog. I like to keep my card design pretty simple when I am mass producing cards, but I also have a few tips to share that can help step up that card design without taking up a lot of extra time.
Watch the video below to see how I created this card set.
I could have easily made this card design without doing any of the blending or ink spattering and the cards would have been just fine! But doing the blending adds so much more dimension and the spatters just play into the rustic feel that I was ultimately going for.
I only stamped this project with Sugar Cube ink. It's one of my favorite inks to create with! In the video, I share one of my biggest tips when using Sugar Cube ink for getting great results. The best way to get used to working with Sugar Cube ink is practice and the more you practice, the better you get to know how the ink works on your projects and you will have more successful results!
The other way to step up a card design is adding the extra touches like the burlap twine tied around the card front and the flowers on the wreath. These small touches really pull everything together.
I added my "signature" to the backs of my cards using one of the new personalized stamps from the Personalized Pop-Up Shop. This is the wreath design option and it's only available for a limited time! The Personalized Pop-Up Shop is only live though this Sunday, February 16th. Make sure to stop by to check out the different personalized stamp options! CLICK HERE to shop.
Supplies: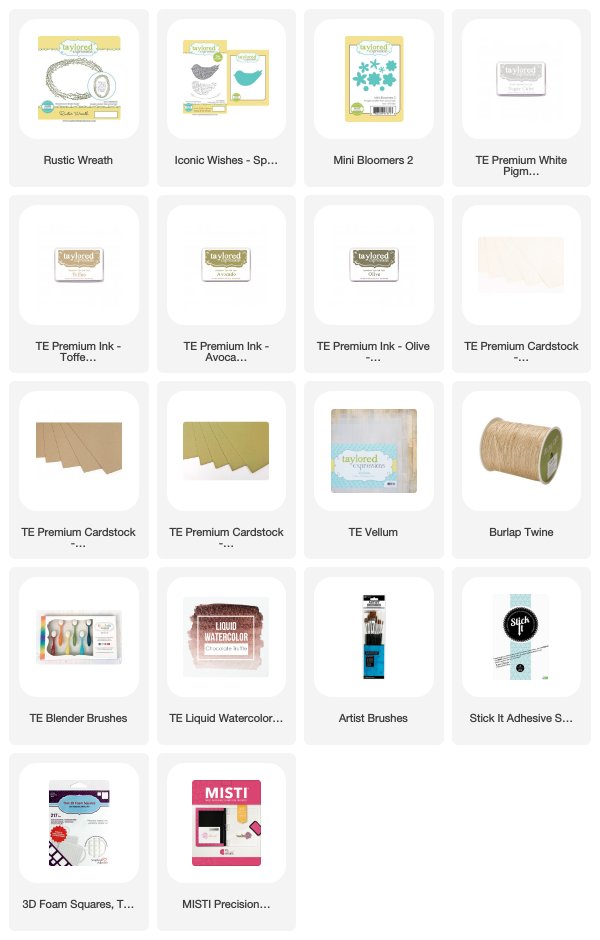 Thank you so much for stopping by my blog today! I will have more inspiration coming your way next week for the Taylored Expressions February release, so make sure to stop by again to check it out!