Hey, everyone! There something new at Taylored Expressions that I think you are going to love. You know how sometimes it can be a challenge to put together colors for your projects? Introducing the new Quad Colors collections that take the guesswork out of putting those combinations together! There are twelve new combinations that you can use on your next projects. Also, you can order the Quad Colors combinations now from the Taylored Expressions webstore. Each Quad Colors collection includes 4 colors and includes 4 mini ink pads (one of each color) and 8 sheets of cardstock (2 of each color).
The project I am sharing today is created with the Quad Colors - Tuscany collection. It includes the colors: Avocado, Pumpkin, Pineapple, and Sweet Basil. This color combination is perfect for autumn projects, but also can be used for more too!
I used the Spring Stems set and created a floral meadow on my project. I stamped the floral stems with multiple colors using selective inking, die cut them with the coordinating dies, and then arranged them with more greenery from the Spring Stems set to complete the scene.
The sentiment is from the All Tucked In - Harvest stamp set. The teeny sentiment fit perfectly in-between the stems! I can see doing this card design with some of the other Quad Colors combinations and even just swapping out the flower colors.
Working with the Quad Colors was really fun to do and I can't wait to share more of my projects with you this week!
Supplies: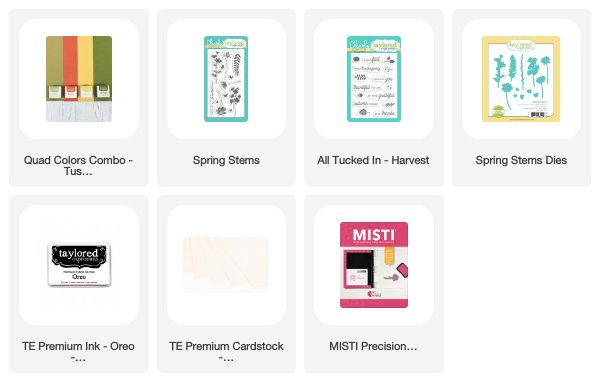 Now through Sunday, March 22nd you can save on the Quad Colors collections in the Taylored Expressions webstore. Buy 2 or more and get 15% off each, buy 4 ore more and get 20%off each, or buy 6 or more and get 25% off each.
Thank you so much for stopping by today! Stop by the Taylored Expressions Blog to see more about the new Quad Colors collections. I will have more Quad Colors inspiration coming your way throughout the week, so stop by again tomorrow!