Hi, everyone! There's a fun/funny new pair of products releasing today at Taylored Expressions. The new Hot Flash Grumplings stamp set and coordinating dies are making their debut and these crabby critters and snarky sentiments are going to make you laugh out loud! The set makes light of the "big change" that most women go through later in life. What better way to survive the challenging part of our lives than to laugh at the pieces and parts of it, right?
I used the crabby hedgehog critter from the set. This hedgehog has the glitter, she has the best rainbow mug of caffeination, but is still just having a day. You have been there, I bet. I know I have.
I colored the images with Copic markers, added shading with colored pencils (Prismacolor), and blended the colored pencil with Gamsol. That bit of glitter is the Bits & Pieces - Rainbow Sprinkles that I stuck to a 1/8" sticky tape piece and tucked right under the hedgehog.
The background is blended with a Blender Brush on Toffee cardstock using the Polka Party stencil and Masking Stencils - Circles set using Toffee ink to create a neutral, tone on tone look. I stamped the 'Momma said...' sentiment in Oreo ink next to the image.
Supplies: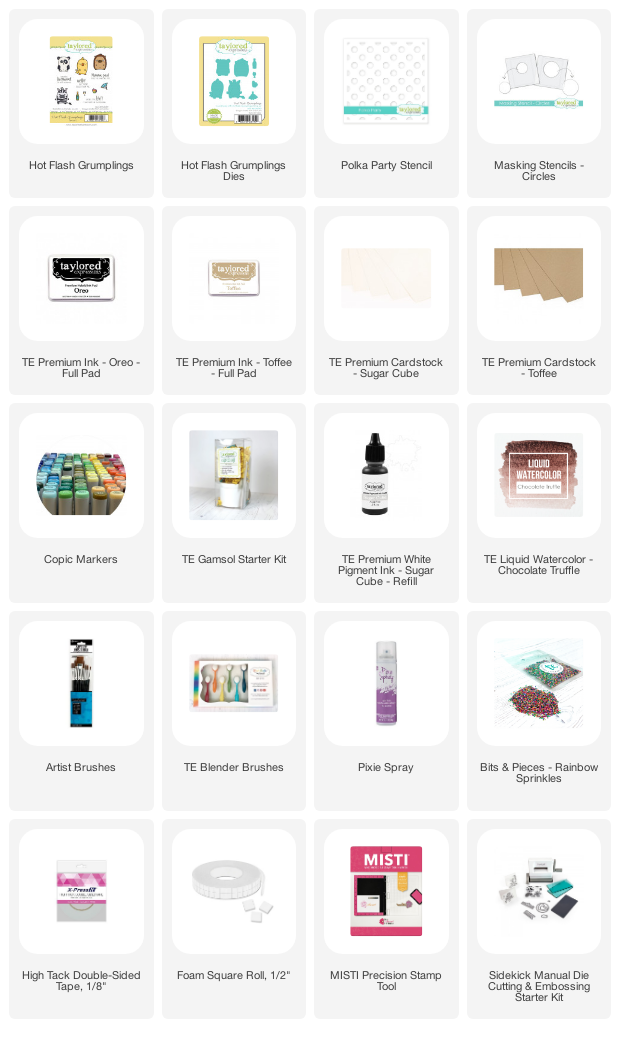 Thank you so much for joining me today. Make sure you stop by the Taylored Expressions blog to see more and link up the the TE Creative Teams blog posts for today. You can also find more details about the new Hot Flash Grumplings stamp set and coordinating dies. Stop by again, I will have more crafty inspiration to share with you again soon!