Hey, everyone! I have a project to share from a very special guest today: my daughter, Hana! Taylor invited Hana to create with the new Kid's Valentine Card Kit and she was very happy to participate. Hana is a senior in high school and really enjoyed putting together the cards to give out to her friends, which tells you that this kit is perfect for a wide variety of ages. (I might have already hinted to Taylor that the images on the Coloring Cards in the kit need to become stamps...!)
Here's everything in the Kid's Valentine Card Kit that retails for $28:
25 Pre-cut Tuck & Fold Notecards – 5 each of Watermelon, Lemon Meringue, Candy Corn, Peapod, Cookie Monster
25 Pre-printed Coloring Cards (sized to fit on the inside or outside of the notecard)
1 3/4″ Acrylic Block
Mini Watermelon ink cube
25 vinyl stickers that coordinate with the Coloring Cards – use these to seal your Valentines or give them as a Valentine gift!
Small clear stamp set that includes a 'Happy Valentine's Day' sentiments, 'to:' and 'from:' words, and several small hearts
Everything is packaged in our Tag Along Tote
A Valentine Card Kit Add-on that includes the Coloring Cards, Pre-cut Tuck & Fold Notecards, and stickers (25 each) is also available to purchase.
The new Kid's Valentine Card Kit is available to purchase RIGHT NOW in the Taylored Expressions webstore!
Hana got the whole set of Prismacolor pencils for Christmas and this project was the first thing that she used them on. And she went right in and didn't even use Gamsol (like I probably would) and they turned out fantastic! Hana definitely has coloring skills.
She added the colored images into the notecards and them stamped the 'Happy Valentine's Day' sentiment on the top flap along with hearts stamped in ink colors to coordinate with the cardstock color for a tone on tone look. Hana is planning on adding the stickers into the Valentines with a removable adhesive so that she can gift them to her friends.
On the outside of the notecards, she hand lettered her friends names using the metallic Karin markers (I do not have this amazing skill like Hana does!) and added even more stamped hearts. She has already told me how excited she is to deliver these!
Supplies: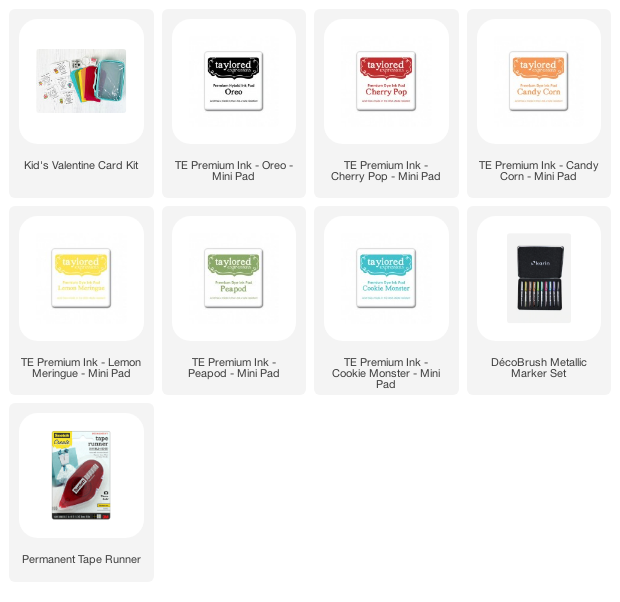 Thank you so much for joining me today. Make sure you stop by the Taylored Expressions blog to see more and link up the the other TE Creative Team members who are sharing the Kid's Valentine Card Kit today. Stop back again, I will have more crafty inspiration to share with you soon!